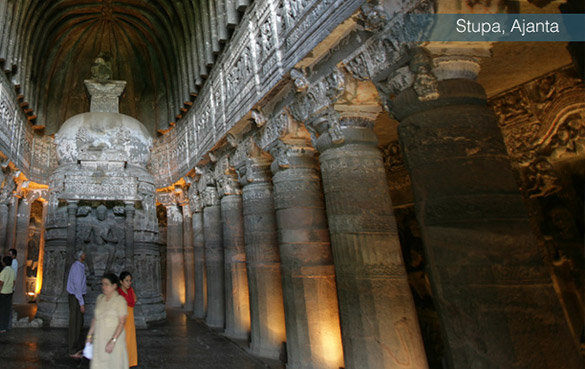 Ajanta
Maharashtra is known for its abundance of Buddhist caves – about 800 of them spread across various districts. But of these, the 32 caves at the World Heritage Site of Ajanta stand out distinctively and attract tourists in large numbers because of their architectural splendour, Buddhist legacy and artistic masterpieces, including narratives painted on the walls of 'chaityas' (prayer halls) and 'viharas'(residential cells). The caves include paintings and sculptures described by the government's Archaeological Survey of India as "the finest surviving examples of Indian art, particularly painting" and these are representative of Buddhist religious art with figures of the Buddha and depictions of the Jataka tales.
Ajanta is located 107 kilometers from Aurangabad and 60 kilometers from Jalgaon. A cluster of 32 Buddhist caves not far from a medieval village of the same name, the site is a protected monument in the care of the Archaeological Survey of India. Moreover, since 1983, the Ajanta Caves have been declared a UNESCO World Heritage Site. The caves located here can be chronologically divided into two phases viz. the early Buddhist caves of 2nd century BCE to 1st century CE and the Mahayana caves dating to 5th century CE. Among the early caves, 9 and 10 are 'chaityas' which comprise the earliest known remnants of paintings in the history of India while 8, 12, 13, and 15A are 'viharas'. Caves 19, 26 and 29 are chaityas of the Mahayana period and all the other caves are viharas.
A chaitya is a Buddhist shrine housing a stupa. In modern texts on Indian architecture, the term chaitya-griha is often used to denote an assembly or prayer hall that houses astupa. A vihara is the Sanskrit and Pali term for a Buddhist monastery. It originally meant a secluded place in which to walk, and referred to dwellings or refuges used by wandering monks during the rainy season.