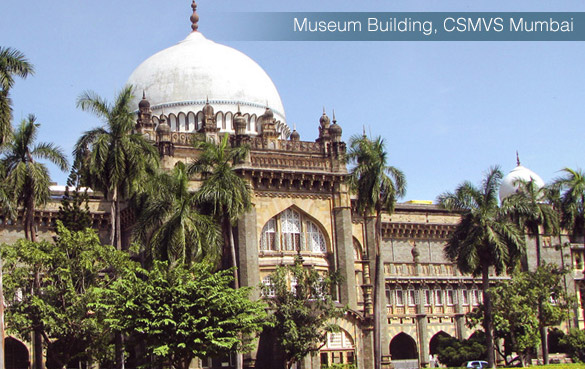 Chhatrapati Shivaji Vastu Sangrahalay
The Chhatrapati Shivaji Maharaj Vastu Sangrahalaya is most famous for having acquired a huge collection of Indian miniatures and other important antiquities, more particularly, the Maratha textiles, arms and armour from the collection of Seth Purshottam Mavji. This collection was once a part of the treasures of Nana Phadnavis, the most influential minister during the reign of the Peshwas. The importance of the museum has also been enhanced due to the donation of a fascinating art collection from the repository of Sir Ratan Tata and Sir Dorabji Tata.
Built from a winning entry by architect George Wittet in 1909, the museum offers insights into the rich past of the country with its archaeological artefacts sourced from various excavated sites. It was opened to public on January10, 1922. This includes antiquities from the Buddhist monasteries of Gandhara, now in Pakistan, and the pottery and terracotta figurines from Harappa and Mohenjodaro dating back to about 3000 BCE. The museum mainly houses sculptures from the states of Maharashtra, Karnataka, Madhya Pradesh, Uttar Pradesh, Gujarat and Kashmir. Some of the other galleries showcase miniature paintings, decorative objects made out of wood, jade and ivory, etc.
The museum is interesting because of the wide variety of objects that it houses. There is something of interest for everyone, as for example, a collection of Himalayan art that presents the complex, mystic and fascinating 'tantric' world of the Vajrayan Buddhist pantheon. The gallery also has a rich collection of colourful 'thankas' - painted cloth hangings - from Nepal as well as Tibet. For those interested in paintings, there is a collection of the work of such masters as Bonifacio Veronese, Mattia Preti, William Strang, Jacob de Backer, Peter Paul Rubens and Sir Thomas Lawrence.
One of the most visited sections in the museum is the one that displays a thrilling collection of mammals, birds, reptiles, amphibians, fish and invertebrates. Of special interest are the Diorama cases which show the birds and animals in their natural habitats. The section is extremely interactive and a favourite among children and students. Curiosity also draws the tourists to see the 'Anwar-i-Suhayli' which is an Arabic version of the 'Panchtantra', the old Indian fable. This richly illustrated manuscript was commissioned by Emperor Akbar and is considered a landmark in the naturalistic and masterly studies of animals and birds. The folios present a whole world of animals and birds, illustrated as running and chasing, holding assemblies, etc.