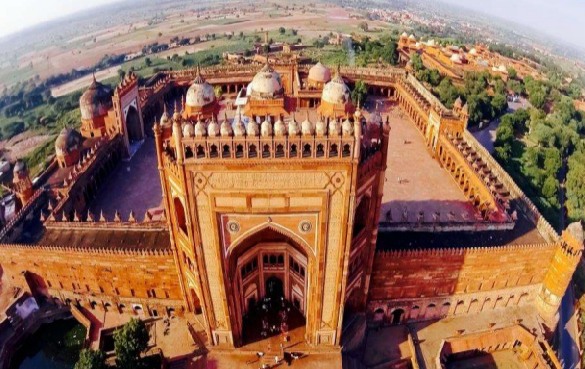 Fatehpur Sikri
The beautiful marble tomb of Sheikh Salim Chisti attracts thousands of tourists at places like Diwan-I-Aam, Diwan-I-Khas, Buland Darwaza, Panch Mahal, Jodha Bai's Palace, Pachisi and Birbal Bhavan.
The desire for a son led Mughal Emperor Akbar to many holy men and finally to the renowned Sufi Saint Sheikh Salim Chishti who lived in an isolated cave near Sikri. The Saint blessed Akbar and soon a son was born to him in 1569.
The grateful Emperor named his son Salim after the Saint and built the grand Jama Masjid near the saint's dwelling. To the west of this mosque lie two graves-one of the saint and the other of his infant son.In further memory of the Saint, Akbar vowed to build a great city.
Thus, emerged the splendid city of Fatehpur Sikri on a stony ridge. A splendid citadel of grand courts, palaces, Mosques and gardens that rivaled the splendors of Delhi and Agra.