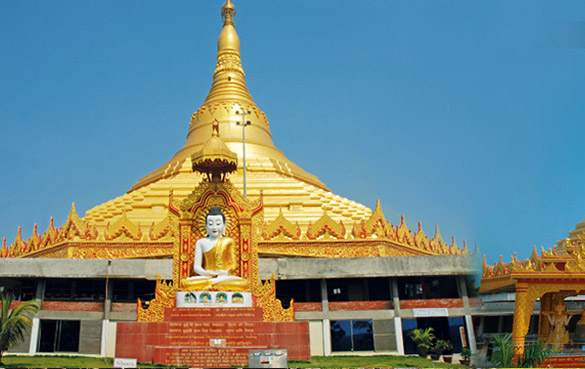 Global Vipassana
As an architectural wonder that helps promote peace and harmony, the Global Vipassana Pagoda near Gorai in Mumbai is a landmark monument that brings us closer to the philosophies and teachings of the great Buddha. It also has the distinction of being Asia's tallest stone structure that majestically rises against the background of the shimmering waters of the Arabian Sea.
The Global Vipassana Pagoda has been the inspiration of the well known Vipassana meditation master Acharya S N Goenka and is representative of the teachings of Gautama Buddha. It is also an expression of the country's heartfelt gratitude towards Emperor Ashoka and the chain of Buddhist masters starting from his teacher Moggaliputta Tissa up to the present day's Burmese Vipassana masters like Ledi Sayadaw, Saya Thetgyi and Sayagi U Ba Khin for protecting, preserving and spreading Buddha's teachings in India and abroad.
Built on the lines of famous Shwedegon Pagoda of Yangon, where the hair relic of the Buddha is enshrined, the Global Vipassana Pagoda houses genuine bone relics of Buddha. Some of these relics were found by the archaeology department of the imperial British government in the ruins of a 'stupa' in Bhattiprolu in southern India before the Second World War. They were then kept in the Museum of London and were returned to the Mahabodhi Society of India after the war. The Society presented them to Acharya Goenka to place in the Global Vipassana Pagoda for the benefit of the countless faithful who come here to meditate.