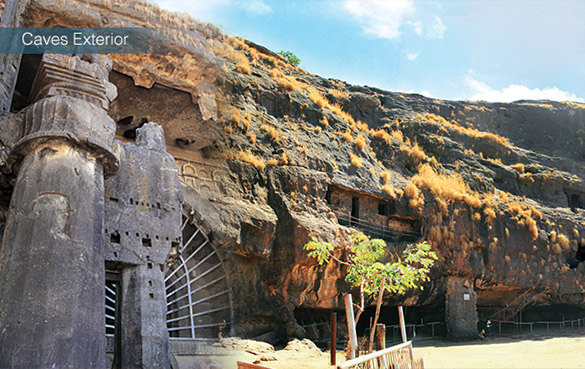 Karla, Bhaje _ Bedse
Caves are not merely the abodes of people living thousands of years ago. The discovery of caves has also led to an understanding of the world as it existed during those times and the cultural, social and religious practices of people that influenced the generations that followed them. Maharashtra has some of the most interesting cave sites in the country and the three that you must definitely visit are located at Bhaja, Bedse and Karla – known for their Buddhist affiliations.
Bhaja Caves
The Bhaja caves are situated about 56 kilometers northwest from Pune on the Pune – Mumbai highway in the Maval taluka of Pune district. There are 25 Buddhist caves at this site. These were excavated from 2nd century BCE to 2nd century CE. There is only one chaityagriha (prayer hall with a stupa inside) and the rest are viharas (residential cave with independent cells within). It is one of the earliest rock-cut chaityagrihas in Maharashtra.
Along with the other caves is a stupa gallery. This is a group of 14 rock-cut stupa sexcavated in the memory of some venerable monks. Some of these stupas bear inscriptions with the names of the monks. There are a few inscriptions in the caves at Bhaja, including a wooden rib in the chaityagriha. The viharas at Bhaja are carved in two levels. There are a few double-storied viharas too. There is only one vihara at Bhaja that has some sculptural decoration. This cave has elaborate narrative sculptures in the verandah, probably depicting a story along with some sculptures of the guardians. There are a few rock-cut tanks at Bhaja. However, there is not a single sculpture of the Buddha at this site, though there are some traces of paintings of the Buddha in the chaityagriha.