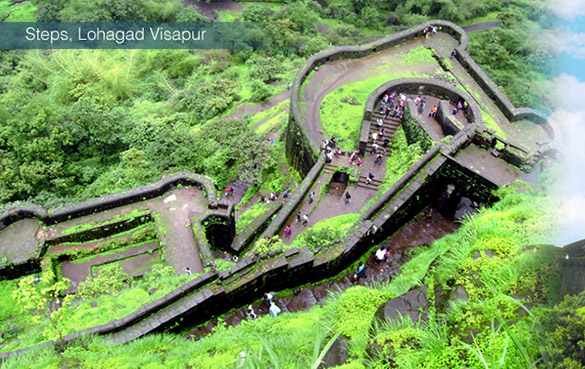 Lohagad Visapur
At the time of the rule of the Maratha king Chhatrapati Shivaji Maharaj's, the one thing that Maharashtra got in abundance was forts. With its hilly terrain and the ruler's expertise at establishing forts at strategic points, the state can now lay claims to have some of the finest, strongest, and the most unique forts of India. Out of these, the ones at Lohagad and Visapur occupy an extremely important place in the history of Maratha rule for the various military activities that they witnessed.
A quintessential feature of the Maval region in the western part of Pune district in Maharashtra is the presence of many forts. This is a region situated exactly on the border of the Konkan and the Western Ghat area. And just 60 kilometers from Pune and very much accessible with both road and rail routes, the two forts that rank high on the tourism itinerary are those of Lohagad and Visapur. These forts were important for anyone who ruled the region because they were used to guard the trade route going through the Bor Ghat, now called as Khandala Ghat.
These two forts are connected by a 'col' (sharp-edged ridge) known as 'gaymukh'. One has to alight at the Malavali Railway Station from where a road leads to Lohgad Wadi, a tiny village at the foothills of the fort, via the village Bhaje. When you begin your ascent to the fort, you will come across four doors named as Ganesh, Narayan, Hanuman and Mahadarwaja. There is an inscription on the Ganesh door which mentions that the work for this door was conducted by Nana Phadanavis during the period November 1, 1790 to June 11, 1794.
Further, as you cross the Mahadarwaja and enter the fort, you will see a tomb-like structure. There are some caves on this fort, one of which is known as the Lomash Rishi Cave. The beauty of this fort is the 'Vinchukata' which is a 1,500-meter long and 30-meter wide natural wall made of stone. This is on the lower side of the fort. Due to this wall the fort can be identified from a long distance also. Another natural wonder on this fort is a huge hole on its eastern side, which can also been seen from any train passing through this region.