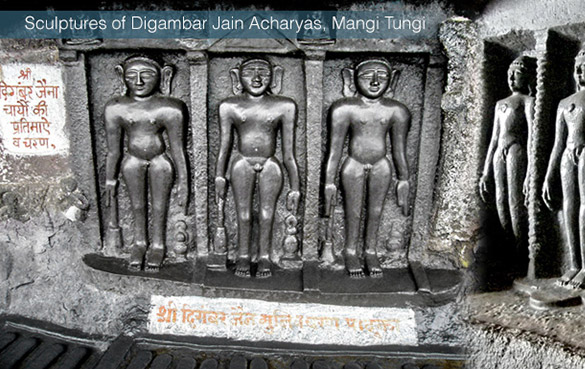 Mangi Tungi Hills
A popular and prominent Digambara Jaina tirtha, at least since the 12th -13th century CE, are the Jaina caves on the hills of Mangi-Tungi in Nashik District. They are also famously known as 'Siddhakshetra', where legendary beings and 99 crore Jaina munis are believed to have achieved nirvana.
Situated in the picturesque Selbari range of Western Ghats are the twin hills of Mangi-Tungi, famous for medieval Jaina caves and icons carved on the rock face. These hills are the highest in Nashik district; Mangi reaching up to a height of 1,326 meters and Tungi up to 1,323 meters. The hills are connected by a narrow ridge and the most interesting facet of the hills is their peculiar shapes.
Conical-shaped, both these peaks have completely bare and perpendicular surfaces, which is what makes them so distinct. But apart from the hills in themselves, the site is visited by tourists around the year for the Jaina caves and hundreds of Jaina icons carved on the rock face of the peaks. These caves and icons are believed to have been cut over a long period during the 9th to 15th century CE.
The exploration of the caves begins with the two Jaina caves at a height of around 150 meters on the southern face of Mangi hill. These have about 80 icons. Climbing up the hill, you reach the base of the Mangi peak, surrounding which are five caves and around 135 icons carved directly on the rock face. Crossing the narrow ridge between the peaks, you reach the base of Tungi peak, which has two caves and eight icons on the rock face. The caves per se are not as architecturally decorative as caves found elsewhere but the many icons will hold you spellbound. The walls are covered with rock-cut icons of Jaina deities and there also are large panels of scenes drawn from ancient legends.