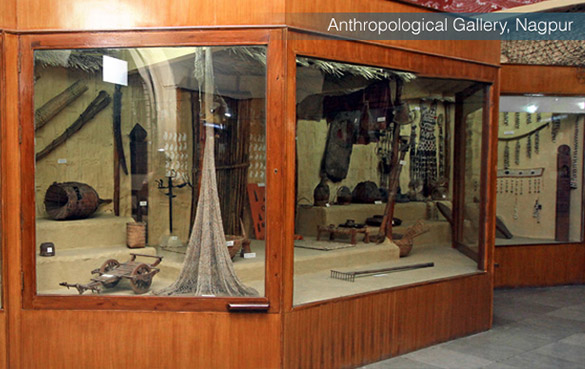 Nagpur Central Museum
Museums, some say, are for those who have a fascination for history. That is true to a certain extent but there also are museums which are delightful for the curiosity they generate and the way in which they offer a window to how people before our times lived. One such place is the Central Museum at Nagpur which is 150 years' old. And what makes it a perfect tourist draw is the huge and priceless collection of memorabilia it holds.
Established in 1862, the collection housed here has been sourced from Madhya Pradesh, Chattisgarh, Vidarbha and some parts of western Maharashtra. This comprises sculptures and 'sati' memorials along with a representative collection of fossils, minerals, pre and proto-historic metal tools, pottery, beads, coins, inscriptions, ethno-anthropological articles, architectural pieces, manuscripts, paintings, etc. The museum is spread across 11 galleries with a thematic scheme for each. Those with a desire for history would do well to visit the galleries housing sculptures from ancient times and antiquities from various excavation sites.
One of the most visited galleries is that of natural history where trophies of antlers, reptiles, fish and invertebrates are displayed. A notable exhibit is the Great Indian Bustard as well as the white crow. You will also find here tiger, bison, panther, neelgai,sambhar, chital, blackbuck, four-horned antelope, wild dog, monkey, etc, not to forget crocodiles, monitor lizards, pythons, and poisonous and non-poisonous snakes. Some of the other interesting galleries include one with a collection of arms and armor with the weaponry used by the Mughals, Marathas and British rulers. The 'tribal' gallery is enriched with a diorama and objects used by the tribals of central India, including one-pan balance, boomerang, tinder and tobacco boxes, etc.