There was a time when Pune was known as a Pensioner's Paradise – home to those who had retired and wanted a peaceful life in a salubrious environment. Now of course Pune has grown into a vibrant metro, a hub of education, industry, information technology, entertainment, and so on. But what makes Pune still more significant is that it is a place from where you can plan several exciting trips to hill-stations, forts, and places of pilgrimage, not to forget an adventurous package too.
Apart from the many interesting places just beyond the city limits of Pune, such as the Sinhagad Fort or the backwaters of the Khadakvasla Dam, tourists always make it a point to visit the twin hill-stations of Lonavala and Khandala for its bracing weather and the wonderful views you get of the valley and the snaking highway that leads to Mumbai. Lonavla is about 64 kilometers away from Pune and has several 'points' that offer breathtaking views of nature at her best. One of these is the Rajmachi Point which commands a view of Chhatrapati Shivaji's famous fort, Rajmachi, and the surrounding valley. Lonavala is also known for its 'chikki' and fudge. Some of the other spots include the Ryewood Park and the Valvan Dam which has a garden at its foot. On the way to Khandala you can visit the Duke's Nose which is popular with trekkers.
Yet another pair of hill-stations easily accessible from Pune are Panchgani and Mahabaleshwar. Located about 120 kilometers southwest of Pune, Mahabaleshwar is a vast plateau measuring 150 kilometers, bound by valleys on all sides. It reaches a height of 1,439 meters at its highest peak above sea level, known as Wilson or Sunrise Point. With its name derived from Sanskrit and meaning 'god of great power', Mahabaleshwar has lots to explore. Arthur's Seat is one such interesting point from where you can get a view of Jor Valley. Another exotic location is Lodwick Point, located almost 1,240 meters above sea level. Some of the other points that you must visit are Monkey Point, Carnac Point, Falkland Point, Helen's Point, Elphinstone Point, Mumbai Point, Marjorie Point and Babbington Point. For boating you must head to the Venna Lake.
Panchgani, about 100 kilometers from Pune, is nestled in the middle of five hills in the Sahyadri mountain ranges topped by a volcanic plateau, which is the second-highest in Asia after the Tibetan Plateau. This plateau, popularly known as 'Table Land', is a part of the Deccan Plateau. Some of the points that you must visit are Sydney Point from where you can see the waters of the Dhom Dam, Parsi Point that overlooks the Krishna valley and Devil's Kitchen which has a mythological legend associated with it - it is believed that the Pandavas of the Mahabharat epic had stayed here for a while.
If you would like to see the magnificence of Indian art and history, you must make it a point to visit the caves of Karla and Bhaja, located about 15 kilometers from Lonavla. The more popular Karla Caves date back to 1st century BCE. After a trek uphill through the winding roads, the impressive rock-cut structure includes the stupa, a representation of the Buddha, and an aisle made up of 37 pillars and carved elephant heads, which once had real ivory tusks. Just outside Karla Caves lies the Ekvira Temple, the chief shrine of the Koli (fishing community) and is visited by thousands of devotees every year. Exactly opposite the Karla ridge lie the Bhaja Caves dating to 2nd century BCE.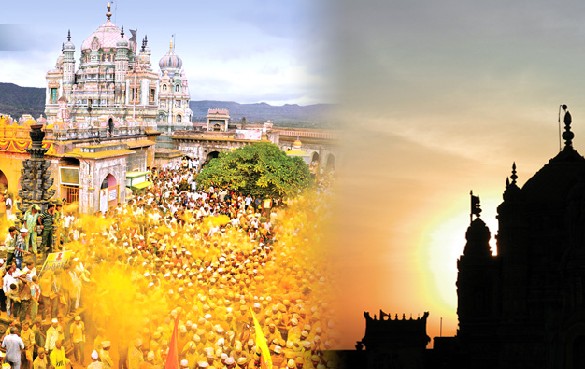 Places to visit
Most popular tourist destinations, curated for you!