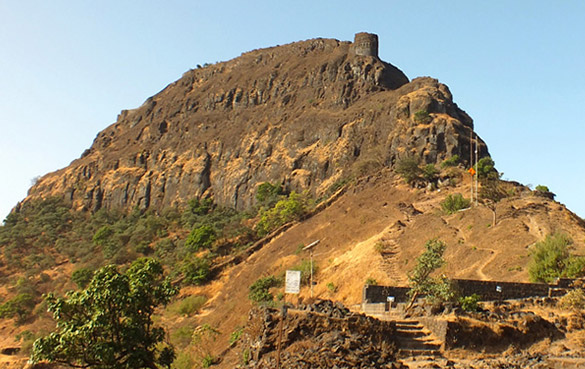 Rajgad
It is a known fact that a lot of the history of Maharashtra has been structured and re-structured by none other than the Maratha ruler, Chhatrapati Shivaji Maharaj. And when it comes to any mention of this warrior king, Rajgad cannot be left behind. This majestic and sprawling fort atop a hill in the Sahaydri ranges was where Shivaji spent almost 24 years of his life. It was also the capital of the Maratha Empire up to 1672 CE.
At 1,395 meters above sea level, the fort of Rajgad is situated exactly in the midst of the rivers Neera, Velvandi, Gunjavani and Kanad. Said to be among the toughest of forts and one that was almost unconquerable, it was constructed after Shivaji first took control of Torana Fort at the young age of 16 where he found a hoarding of gold in one of the bastions. This entire treasure was spent to build Rajgad Fort on the hill that was earlier known as 'Murumbadevacha Dongar'. The fort's design consisted of three galleries ('machi') named Padmavati, Suvela, and Sanjivani and one great citadel ('balekilla') with the 'Alu Darwaja' that has artistically carved doors.
Since Rajgad Fort served as Shivaji's capital, it had a provision for ample supply of water throughout the year. In fact, the two big tanks of potable water are in use even today. The fort is an example of splendid design and construction that served to house the soldiers and Shivaji as well as provide protection. The two layer fortification of Sanjivani Machi is simply a marvel. The path is made in between two ramparts and you have to go through small hidden doorways carved out of stone. The ramparts are so strong as to deflect the heaviest of attacks. There is a big-sized hole in a rock at Suvela Machi. This narrow gallery is also secured with curved fortification, bringing to attention the details that the builders went into.
On Padmavati Machi is the temple of goddess Padmavati and a water cistern. Rajgad Fort was a witness to many adventurous incidences in the life of Shivaji, including the birth of Shivaji's son Rajaram; Shivaji's successful return from the captivity of Aurangzeb; the sad demise of his queen Saibai, and so on. It also showcased the ideal governance system of the Maratha king.