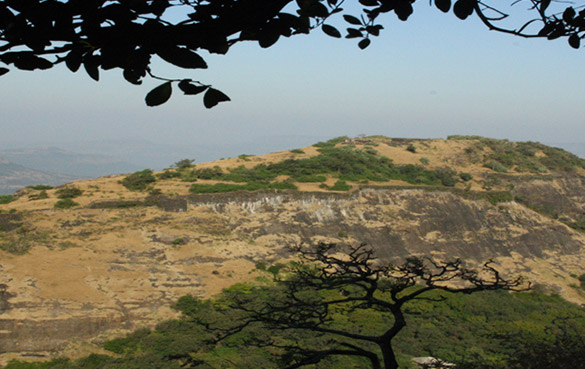 Rajmachi Fort
Ask any regular trekker to draw up a list of some of the popular destinations for trekking in Maharashtra and Rajmachi will definitely figure on it. Although just a small village in the rugged mountains of Sahyadri, it has been a favorite tourist spot for the presence of two forts, namely Shrivardhan and Manaranjan, both of which are located amidst a green canopy offering amazing views of hills and valleys.
Located just about 15 kilometers from the twin hill stations of Lonavala and Khandala, historically, Rajmachi Fort was a strategic point to control Borghat, the winding pathway between Khopoli and Khandala on the Mumbai-Pune route, used as a trade passage then. The peak of Rajmachi has two fortified structures, Shrivardhan and Manaranjan, and can be reached either by the tough route which is from Kondivade village near Karjat that involves a climb of about 2,000 feet or from Lonavala, which is almost a plain walk. It is during the monsoon that the true beauty of Rajmachi emerges with silvery waterfalls, streams, lush green forests and meadows making up the verdant landscape.
Trekkers usually prefer to pitch their camps near Kalbhairavnath Temple which also allows a stay on its premises if the weather outside isn't too conducive. There is a tank about 100 meters away that provides water. If you intend to go for an overnight trek, make sure to take your own food. Alternatively, you can buy 'bhakri' and 'chutney' from the village. The forts are worth exploring, especially the Shrivardhan Fort which has many secret tunnels leading to battlements. The best view of the plains is from Manranjan behind the temple. At the base of Manranjan are some simple rock-cut caves.