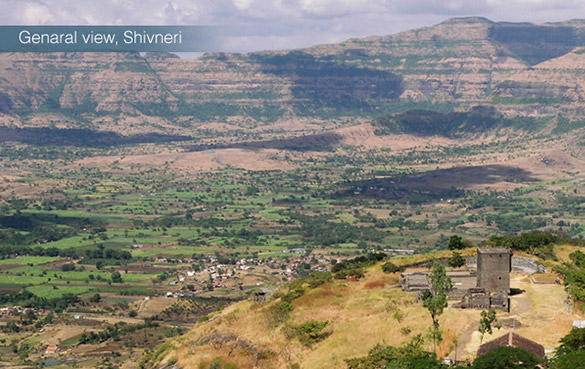 Shivneri
For those in search of a heady mix of adventure, discovery of nature and a trip down history, nothing can beat a visit to the fort of Shivneri. It not only provides an emotional and historical connect with the place where the great Maratha king Chhatrapati Shivaji Maharaj's was born but also proves to be an opportunity to test your trekking skills.
Shivneri is a hill fort located to the northern side of Pune district with Junnar at its base. In the history of the Maratha Empire, the fort holds special significance because it was the birth place of Chhatrapati Shivaji Maharaj's. The irony of course is that he never ruled Shivneri, though he tried to capture it in 1657 and 1673, both the attempts being in vain. In 1716, during Shahu Chhatrapati's reign, the possession of Shivneri by Maratha rulers took place as an outcome of a treaty with the Mughals.
To visit Shivneri, one has to first go to Junnar which is well-connected by road to Pune and Mumbai. The fort is approachable by two routes, one being a regular tar road that goes half way up the hill in its southerly direction, following which one has to ascend the steps of Rajmarg and pass through seven magnificent gates and the other being a tougher option most preferred by trekkers. About mid-way on this trek are rock-cut caves, some of which are very difficult to access. Further ascent is in the form of extremely narrow-cut steps, many of which are in a crumbling state. Both the paths require about an hour to reach the top.
Even though the fort has succumbed to the ravages brought on by time and weather, its structural style is worth a study. The first ruined building you will see is the Ambarkhana or Dhanyakothi. This was a granary where stocks of food grains were kept for years together. Further on is a twin underground water tank, called the Ganga-Jamuna cisterns. Experts date these water tanks to the Satavahana period, i.e. 2,000 years ago. Interestingly, the fort has a statue of child Chhatrapati Shivaji Maharaj's, appropriate since he lived here only for his first six years.