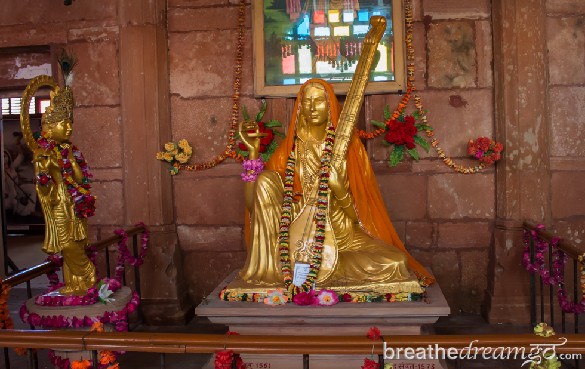 Shrines of Meerabai
The shrine of Meerabai is located in town, about 150 m from the main Dwarkadheesh Temple, across the vegetable market. If you have a hard time identifying it, ask a local to guide you. It's a small shrine, within a residential area. It carries a painting of Meerabai and an idol of Lord Krishna. Besides its association with Shri Krishna and devotees such as Surdas, Kabir, Nanak, Narsingh Mehta, Adi Shankaracharya and Ramunuj, the prominence of Dwarka is also attributed to the spiritual love of Meerabai.
Meerabai had a royal upbringing and was married to a powerful 16th century king in Rajasthan. However, her connectedness with her inner self and clarity of purpose gave her the courage to renouce the worldly life and completely immerse herself in the worship of her beloved Krishna. Meerabai arrived at the end of her life's pilgrimage to Dwarka to worship Krishna through her immortal poems of love.
Legends also say that she infused Dwarkadheesh temple with the intensity of her devotion till she dissolved and merged with the idol of Shri Krishna. Therefore the pilgrimage shrine is believed to be charged with her extraordinary energy and light of wisdom. For those tuned to its vibes might also feel its awakening power and love. The spiritual journey that Meerabai took is known as the bhakti path in Indian philosophy, which is the path of love, devotion and surrender. It shares remarkable similarities with Sufism.